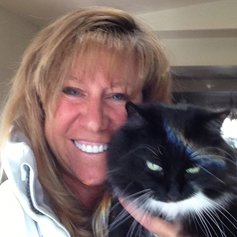 The best days of my youth were spent at our summer home in Milford, CT. Encouraged to be outdoors as much as possible - we sailed, windsurfed and swam in Long Island Sound on the sunny days. But - on rainy days we got creative inside and crafted, using many mediums available to us along with treasures that we found on our many walks on the beach!
I had an incorrigible love of sailing and of just being near the water - and loved walking the beach picking up sea glass, shells and skipping stones.  All have become some of the materials used in my jewelry creations today.   After retiring from over 35 years in a corporate job, I took a little break to regroup and reorganize my household. I found a need to repair some of my jewelry that had been broken over the years so I took a few classes to learn basic techniques in jewelry making, then to more advanced classes (some with renowned artists such as Richard Salley, Eva Sherman, Nancy Hamilton, Roxanne O'Brien) a few more and a few more! I fell in love with creating beautiful pieces using metal, beads, stone, leather and glass to name a few.  My friends and family encouraged me to launch a business and eventually Sailor Beads, LLC was born. Sailor Beads is actually "Sail..or..beads today?" as I'm also a licensed boat captain and still in love with sailing too.
Check out the "Honey...I WANT!!!" tab that tells you how you can communicate your love of a piece of my jewelry to someone, and your desire to have someone gift it to you.  

I  can make custom jewelry as well - especially if you have sea glass or shells you'd like to wear instead of just gaze at on a shelf! Contact me and let's talk about it first.
I'm constantly learning new techniques so you will see a variety of products here that are sometimes a combination of many of these techniques. I hope you enjoy wearing my jewelry as much as I enjoy making it!  

Captain Sue